Four former New Leaf residents looking for Nessy
At New Leaf Recovery Project we aim to provide those struggling with addiction a new start, by providing tailored treatment programmes to ultimately lead our residents to a substance-free life. Our private rehab centre provides personal privacy but also social spaces where residents can build friendships that they can take into their aftercare.
Four of our former residents recently took a trip to AA convention in Inverness. As former residents at our private rehab centre, they have experienced first-hand the supporting friendships you can build whilst carrying out a rehabilitation programme with us.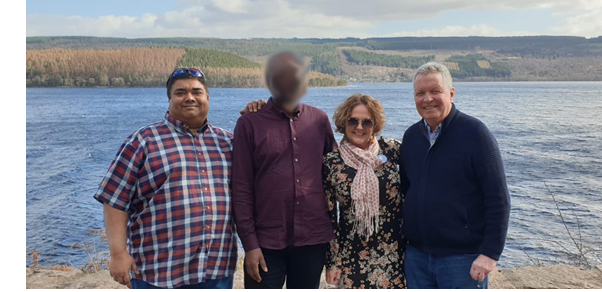 Read below what one of our former residents had to say about their experience here at New Leaf Recovery Project:
"Looking back, one of the biggest fears about going into treatment was imagining what kind of people would be there. Obviously, as an addict, I thought I was better than others, special and different. This whole thing was a misunderstanding. In truth, I was broken, vulnerable and scared to death. The reality was that all the other souls that were in that treatment centre were exactly the same as me. As I began to learn that I was, in fact, ill and started to accept that I wasn't a special snowflake, I could identify with my fellow residents' stories. We came from a hugely disparate social and economic background and yet we discovered that, in essence, we were all the same.
Somehow the initial vulnerability, shame, guilt and general reality check brought us closer together and the false pride and ego became less necessary. Ironically the closest bonds I built, those that remain strong today, are with the people who challenged my behaviour, my thinking, my defects. Recovery is a personal journey and it's not easy, but the bonds we build in treatment and on the road thereafter are like no other."
Do you need help overcoming your addiction?
At New Leaf Recovery Project, our private rehab centre is the ideal environment to free yourself from your addiction. By combining our tailored rehabilitation programmes with our dedicated staff, we aim to lead you to long term recovery using a process of detoxification, rehabilitation and aftercare.
If after reading this you are concerned for yourself or someone close to you, please contact us on 0300 999 0330.